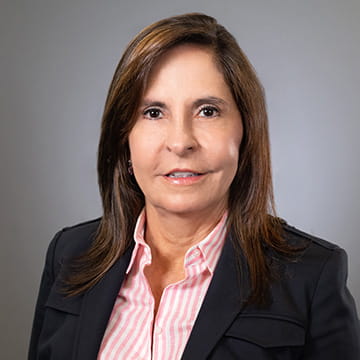 Blanca
Taua Salazar
Senior Registered Service Client Associate
Blanca is dedicated to providing personalized service and building long-term relationships with our clients. She enjoys helping them prepare for the major financial milestones in their lives and each moment in between.
She works with our team in creating customized investment strategies, addressing every detail and analyzing all aspects of each client's financial life. She always puts our clients' needs above her own, addressing any concerns, resolving any issues and helping them meet their objectives.
Before joining our team in 2018, Blanca was a senior registered client service associate at UBS Financial Services and Merrill Lynch. Earlier in her career, she was a regional manager and sales assistant at SunTrust Investment Services. Blanca holds Series 7 and 66 securities licenses and life, health and variable annuity licenses. She earned a bachelor's degree in economics and finance from Middle Tennessee State University.
Blanca was born in Colombia, but has been in Miami for more than 20 years, where she lives today with her husband, Ivan, and sons Jorge and Nicolas. In her free time, she enjoys biking.
A totally personal view
Q: What are your must-have travel items?
Comfortable shoes, my toothbrush and a readiness to have fun all over the world.
Q: What is your favorite kind of trip? Why?
Visiting beautiful unique places. Learning about different cultures and getting a taste of what life and food is like all over the world.
Q: How do you spend your time outside of the office?
Biking, walking and taking Poly, my little parrot, out for a walk.
Q: If you weren't doing what you do today, what other job would you have?
I like very much what I do, but I would definitely love to contribute to helping children in the future. They have a special place in my heart.
Q: What's the one thing that might surprise others about you?
How much I like ice cream, yummy.
Q: If you could spend a week anywhere in the world, where would it be?
Visiting my mom.
Q: What's the one thing you couldn't live without?
My two sons, Jorge Ivan and Nicolas, are the loves of my life.
Q: How do you define success?
Success is achieving happiness doing something you like. Enjoy life, it is too short.