An established process
for personalized planning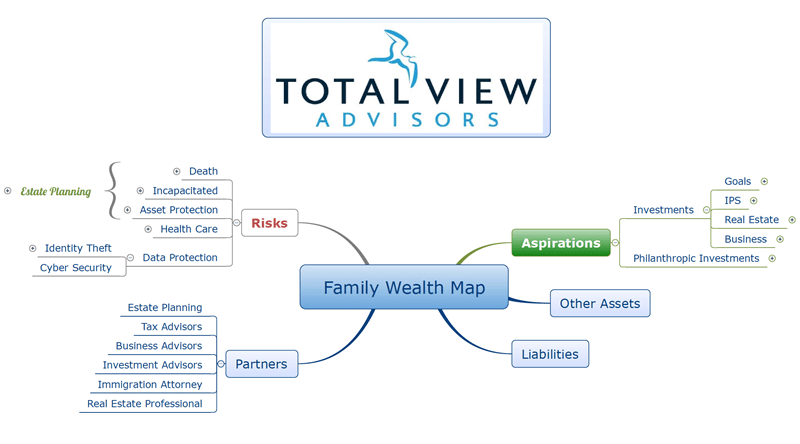 We believe that using a thoughtful and disciplined planning process is what can give you a clearer path to achieving your goals and objectives. It includes an in-depth discovery process to evaluate not only your financial goals and risk tolerance, but also your attitude about investing and what you want to accomplish. We will personalize a family wealth map that gives a bird's eye view of important factors such as your assets and liabilities, aspirations and risks.
We will get to know you, your spouse and your children so we can better understand what matters most in your life. By conducting a full and comprehensive review of your life, intimately knowing your needs and what matters to you, we can create a tailored plan to help you get to where you need to. Having such detailed planning based on a personal connection is what will enable us to deliver our best work on your behalf.

We'll analyze all the information you've shared with us in order to design your plan. We'll look at the total view, as well as every detail, including any gaps that need to be addressed. We'll consider a number of comprehensive portfolio strategies that focus on your specific goals and objectives. This step may include collaborating with your outside advisors to help ensure a well-coordinated and cohesive plan. When our proposed plan is complete, we'll present it to you and answer all your questions, to make sure you understand it and are comfortable. After decades in the financial services industry, we have learned that there are many ways to provide a financial plan, but none are of any value unless the client feels in control and is willing to put the plan into action.

With your approval, we will execute your customized plan using our experience and the extensive research and resources available through Raymond James. Our advisors play an active role in the care of various investment portfolios and insurance vehicles, ensuring that your family owns what is needed to help meet your goals. This involves the selection of specific account types, investment products and optional services, and the handling of all necessary documents and paperwork.

Our work doesn't just end once we've implemented your plan. We'll continually monitor its performance and manage its components so that your asset allocation remains aligned with your personal objectives. We'll meet periodically to review and rebalance your portfolio, shift reallocations and make tactical moves. We'll also factor in any significant changes in your life, suggesting and making appropriate adjustments as necessary to ensure that your plan evolves along with your life and family.