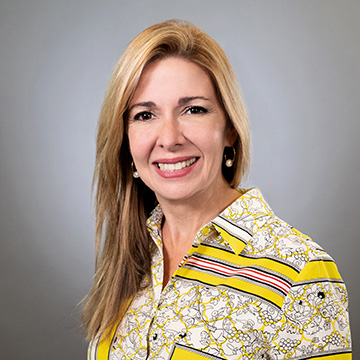 Raquel
Vega
Client Relationship Manager
Raquel's goal is to make our clients feel as welcome as possible. She looks forward to seeing them in the office and at social events. "I am a people person," Raquel said. "I feel I am very approachable for whatever the client needs. I am also a good listener and a quick study, enabling me to help them efficiently."
Raquel not only treats our clients as family, Total View Advisors is truly part of her own family. "I have supported my husband, Gus, from behind the scenes for 20 years, and now I have an active role in helping him at the office," said Raquel. "I realize I play a key role in the theme at Total View Advisors: We are here to help people achieve their goals, but also make them feel they can confide in us for all their needs."
Raquel is a member of The Florida Bar. She holds a Juris Doctor from St. Thomas University Law School and a bachelor's degree in political science and broadcast journalism from the University of Miami.
Raquel was born and raised in Miami, and lives here with her husband, Gus, and children Gaby, Gus and Dani. In her free time, she enjoys reading, traveling and playing with her three children.
A totally personal view
Q: What are your must-have travel items?
Audible book app installed on my device, a good magazine and water.
Q: What is your favorite kind of trip? Why?
International trips. I love exploring and learning how other cultures live and how countries are different.
Q: How do you spend your time outside of the office?
Usually entertaining my three kids.
Q: If you weren't doing what you do today, what other job would you have?
My favorite job is being a mom. I also enjoy helping others. My ideal job would be a job that entails working and interacting with people.
Q: If you could spend a week anywhere in the world, where would it be?
New York City. I love the big city. I feel it's endless and there is always something new to explore.
Q: What's the one thing you couldn't live without?
My husband. He is my best friend and my family wouldn't be the same without him.
Q: How do you define success?
Personal satisfaction and being happy with one's self.
Raymond James and its advisors do not offer tax or legal advice. You should discuss any tax or legal matters with the appropriate professional.